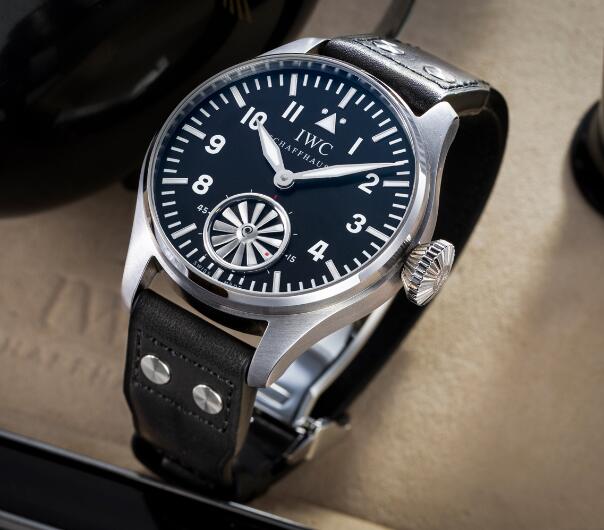 The famous "turbo" watch.
One of the most unique large pilot watches ever made by IWC is also one of the least-known watches, perhaps even the rarest model ever. Named after its designer, Big Pilot's Watch Edition "Markus Bühler" reference. The 5003 was conceived by an apprentice at IWC and then put into production, but it was a small limited edition with only twelve watches.
The basic principle of the Markus Bühler version is simple-a slightly modified Unitas 6498-but the appearance effectively conveys the purpose of the design. There are "turbo" on the front and back, it is undoubtedly the pilot's watch.
When I first saw the Big Pilot Markus Bühler when it was launched in 2008, I thought it was silly. Despite being a limited edition, the Big Pilot "Turbine" is a downgrade of the standard Big Pilot's Watch, coming from an impressive internal calibration. 5000 provides Unitas with a 7-day power reserve, despite the unusual asymmetrical stripes on its bridge deck.
But I was wrong. The simple and effective concept-and its inherent aesthetic appeal-means that Markus Bühler has grown in me. I rank it as one of the most famous large pilots of all time.
Its appeal lies in its simple and symmetrical design, with minimal modifications to the original Big Pilot dial, except for the second hand.
The "turbo" second hand is a distinctive and alternative function that claims to be a pilot's watch, but in a reasonable and restrained manner. The turbine is not obvious from a distance, so avoid looking too pilot. The movement inside is indeed a low-cost Unitas, which can be activated with minimal technical modification.
But with high-spec internal movements now commonplace-even if they are cheaper due to brands like Tudor-they are no longer so exotic. Paradoxically, this makes the internally unpretentious movement completely acceptable. In fact, the sport was executed by IWC apprentices under the supervision of Mr. Bühler-giving it a strong atmosphere of school observation-adding to its appeal.
Of course, it also helps that Big Pilot Markus Bühler only produced 12, which makes it very rare. There is no doubt that owning one makes people feel like being part of a special club.
Markus Bühler (Markus Bühler) was born into a family of craftsmen and has now become an IWC veteran for two years. His first career was carpentry-he joined the family's carpentry business as soon as he graduated from school and was promoted to a foreman.
But ten years later, Mr. Bühler decided to switch careers, so in 2001, he joined IWC as a 28-year-old apprentice watchmaker. -The test score is 5.9 points (out of 6 points).
He emerged in the ranks of IWC and is now the deputy director of watch and movement assembly, but for IWC enthusiasts, he will always be synonymous with the Big Pilot named after him.
Mr. Bühler used the "Turbo" wholesale watches as his entry for the 2003 Swiss Watchmaking Apprenticeship Competition.
It was once an annual event organized by the Institut de Formation à la Haute Horlogerie (IFHH) established by the Swiss luxury goods group Richemont Group, the parent company of IWC, to provide high-level watch education to the group's employees. A few years later, the competition merged with Cartier's apprentice competition and is now called Concours IHC (short for Institut Horlogerie Cartier).
64 apprentice watchmakers participated in the 2003 competition. Mr. Bühler won with the highest score (50 points), won the highest award, and won a trip to New York.
His winning work was designed and implemented within the time frame stipulated by the rules of the competition-30 hours in two weeks-so this is not surprising, but still very clever.
It is essentially a hand-winding pocket watch movement. It has been improved and equipped with turbo-shaped wheels on the front and back, replacing the second hand and barrel ratchet respectively.
In a subsequent limited edition announcement, Mr. Buhler explained: "Replacement of the barrel of a watch with a micro-turbine engine of an airliner seemed a bold idea at the first inspection… but both engines are implemented. The same task. They are responsible for providing the drives."
In 2004, after completing his apprenticeship, Mr. Bühler was sent to the prototype design department of IWC, where his skills in making disposable watches were proven. During that time, "turbo" watches became a hot topic. Today's social media-will be put into mass production as a limited edition, even though there are only 12 watches.
As a result, Mr. Bühler became the project manager of his own limited edition, and with a poetic exchange of roles, he assigned him a team of apprentices to be responsible for 12 watch projects. Mr. Bühler and his young head had to develop the tools needed to manufacture the unique part of the Big Pilot "Turbine", namely the open wheels-each wheel is hand-cast in aluminum.
The manual, one-off nature of the Big Pilot "Turbine" means that each of the 12 "turbine" movements is actually more like a handmade prototype than a normal IWC movement. Because of this, the completion time of these 12 watches is staggering, and 11 lucky owners did not receive them until 2008.
The previous "turbo" is a simple modification-the seconds indicator takes the form of a turbo. A small red dot on one of the blades acts as a hand, reading together with the five-second segmented track on the outer edge of the register.
To prevent the second hand from becoming a resistance to the movement (and causing the amplitude of the balance wheel to decrease), it must be as light as possible. Therefore, the indicator is made of aluminum, and the density of aluminum is about one-third that of stainless steel or bronze, which is a traditional hand metal.
Composed of two main elements, the turbine on the back is slightly more complicated. The first component is a retaining ring with a raised lip — the lip is designed to mimic the intake fairing of a jet engine — with an integrated fixed blade and exhaust cone in their center. Just below it is a barrel ratchet, which is opened to form turbine blades. When the movement is wound, this wheel will rotate.
Except for the turbine cover, this movement is an ordinary Unitas, although its finishing level is much higher than the standard level of this movement, which was historically found in cheap watches. The finish is sturdy and craftsmanlike, similar to what one might find on school watches, which is very similar to the 12 works done by apprentices.
The last bit of trivia about the big pilot "turbo". The IWC owns "No. 12"-although it is said that this watch was misplaced before it was later rediscovered-and Mr. Buhler himself kept the penultimate example.
His watch "No. 11", however, is unique: the second hand "turbo" does not have the tiny whirlwind logo found in all other examples of this model.
IWC Big Pilot's Watch Edition Markus Bühler
Ref. IW5003
Diameter: 46.2 mm
Height: 15.8 mm
Material: Stainless steel
Crystal: Sapphire
Waterproof performance: 30 m
Movement: Carl. 64900
Functions: hours, minutes and seconds
Frequency: 18,000 times per hour (2.5 Hz) on the chain
: Manual winding
Power reserve: 46 hours
Strap: rivet leather
Categories: