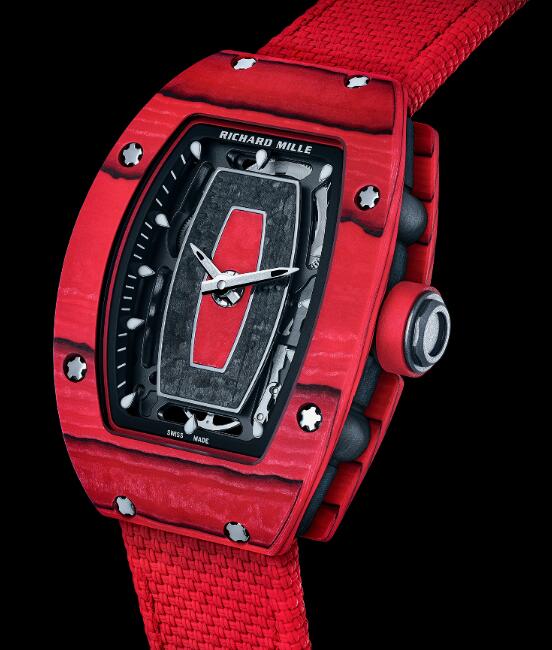 To commemorate the first appearance of his team in the WEC World Endurance Championship, RICHARD MILLE specially launched the RM 07-01 Racing Red watch with a limited edition of 50 pieces. This symbolic RM 07-01 sports watch carries the iconic red color of the car "Roxy"-the unique characteristics of the Oreca-Gibson 1 driven by three female drivers, Beitske Visser, Sophia Flörsch and Tatiana Calderón It is red, and is equipped with the CRMA2 hollow self-winding movement independently developed by RICHARD MILLE.
The case uses Carbon TPT® carbon fiber and Quartz TPT® quartz carbon fiber at the same time, and is shown in red. The middle case and dial are made of Carbon TPT® carbon fiber material, while incorporating Quartz TPT® quartz carbon fiber to enhance its characteristics. These two materials are specially built for competition, in response to the strong impact inside the car cockpit.
RICHARD MILLE RM 07-01 RACING RED watch RM 07-01 18K white gold carbon fiber case / CRMA2 automatic movement / time indication, date display / power reserve 50 hours / water resistance 50 meters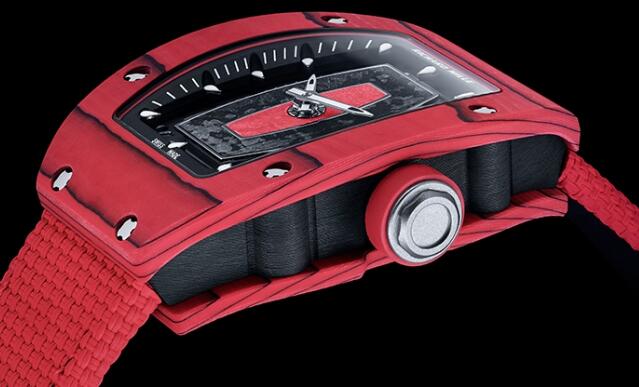 The three-layer case is equipped with two nitrile rubber O-rings and is water-resistant to 50 meters. The case is assembled with 12 grade 5 titanium alloy spline screws and 316L stainless steel anti-wear washers.
This is the second time for the RICHARD MILLE team to compete in Belgium, more precisely on the famous Spa-Francorchamps circuit. Composed of three women, Beitske Visser, Sophia Flörsch and Tatiana Calderón, they are also attracting attention as a team representing the luxury RICHARD MILLE brand. It is also the first appearance of the FIA ​​FIA World Endurance Championship WEC in the LMP2 class.
Thanks to the watch's harmonious design, ultra-light material and curved case that can provide rigidity and comfort in any situation, RM 07-01 Racing Red will become the loyal companion of the three female drivers of the RICHARD MILLE team. It will be worn both in competitions and in daily life. After showing off in the European arena in 2020, this ambitious trio will bravely meet the challenge of the World Endurance Championship.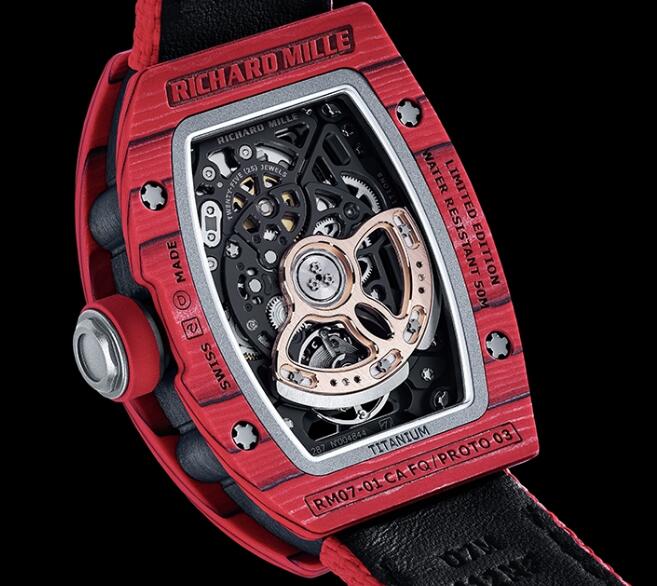 The variable inertia oscillating weight of the CRMA2 movement can be adjusted according to the intensity of the wearer's activity: slide two small hammers into the correct gear to adjust, and fix them with spline screws.
The team of three women, Beitske Visser, Sophia Flörsch and Tatiana Calderón, represented the RICHARD MILLE brand in racing competitions.
Categories: